What's On
Regular bookings and events -
The calendar below shows current events and regular bookings.
Please contact Fiona Murray for more details.
If the calendar does not display correctly, please click here.
Events in smaller Reading Room marked with * before details.
If an event is waiting To Be Confirmed "TBC" then please contact us for possible availability on that day.
We welcome many different groups who use the hall on a regular basis.
Yoga
Tuesday morning, is yoga day at the Village Club Strathblane. For more info contact Elaine 07432 650 396
Pilates
(Body Control)A body-conditioning method in which stability, control and efficiency of movement are key. Pilates doesn't just reshape and realign your body; it actively promotes healthy movement patterns while reducing tension and fatigue. The original "intelligent exercise". Regular times: - Thursdays 9.45 a.m. and 8 p.m. Note: These are not drop-in classes – please 'phone Jane Meek, 07759 182236
Feldenkrais -
Moshe Feldenkrais understood, decades before science caught up, that our brain has the capacity to change and develop throughout life. Feldenkrais classes stimulate this potential by focussing on movement as a context for human learning. The results are not just improved movement, with relief from tension and muscular pain, but enhanced functioning generally: everything from easier, fuller breathing to greater freedom and vitality in everyday activities, not to mention enhanced performance in sport, dance, climbing, Pilates, music, drama and more.
Regular group class on Thursdays 11.15-12.15. Suitable for all ages and abilities. All you need is a floor mat – and curiosity! Call Jane Meek on 07759 182236 for further details or e-mail janemfr@tiscali.co.uk
Art Classes

Zumba

Keep Fit

Heritage Society
Strathblane Heritage Society was formed in 1993 with the aim of promoting an awareness of the history of the Parish of Strathblane. The Heritage society meets once a month during the winter months on Wednesdays at 7:30pm in the village club.
Campsie Crooners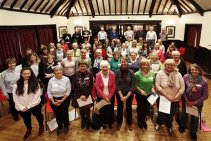 The seed of the idea of forming a community choir surfaced in late 2014 and my goodness it's more than blossomed since then!! As always, it's never too late to join, so shake off the wintry cobwebs and come along and join in on the fun! Wednesdays, Village Club @ 7:30. £2. All welcome. Tra-la!